Strategic Aims
27 Apr 2021
The CIOT Council agreed its three year strategy in November 2019. The below infographic represents our three strategic aims of education, standards and voice. The strategy is supported by a Business Plan against which progress is reported at each Council meeting.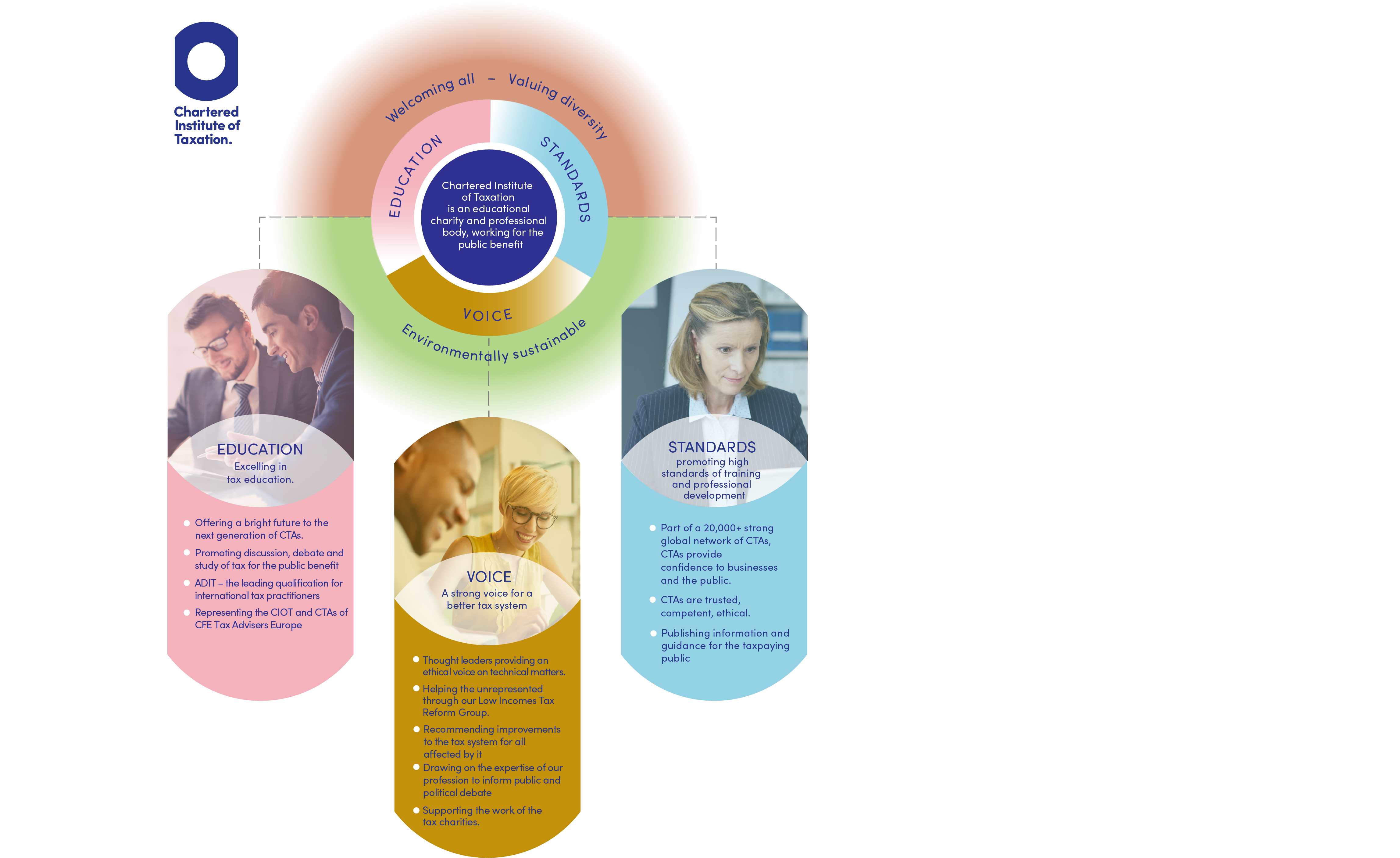 1. DESIGNING AND DELIVERING EDUCATION AND LEARNING:
AIMS
Offering qualifications which meet current and future market needs
Facilitating learning for tax practitioners to ensure ongoing continued competence
Innovating the way in which our education and learning can be accessed by an increasingly flexible and diverse workforce
Ensuring access to qualification as a chartered tax adviser is open to all, regardless of socio-economic background
2. PURSUING EXCELLENCE AND PROMOTING STANDARDS:
AIMS
Keeping abreast of the tax and associated welfare systems and seeking to influence the agenda for change where it is relevant and appropriate to our charitable objectives
Increasing public understanding of tax matters and pursuing simplification of the tax system
Developing an educational and ethical framework of the highest standard which can be embraced by those who share our values
3.REPRESENTING AN ENGAGED AND GROWING MEMBERSHIP:
AIMS
We will lead the profession in demonstrating to policymakers, employers and the public the value that chartered tax advisers bring to society by running and supporting successful tax practices and contribute to economic sustainability in the public and private sectors
Being the voice of chartered tax advisers and representing their technical expertise
Delivering services which add value and reflect best use of member fees
Supporting members through their careers as chartered tax advisers, from studying to retirement to volunteering
You can also watch our short Welcome video here which highlights our three strategic aims and summarises what we do.